Sign up with Caesars Sportsbook NY using EMPIRE1000 and you'll get the newest NY promotional offer: a $1,000 first bet. Read on to find out what makes this offer, and sportsbook, such a force in the NY betting market.
Caesars Sportsbook New York promo code EMPIRE1000 has been verified for $1,000 in a single-use bonus bet from Caesars. The pressure of winning your first bet is gone with Caesars promo code NY this month. How does the app stack up against offers from all New York Sports Betting Apps? Let's take a look.
Caesars Sportsbook NY Promo Code and Bonuses: November 2023
Among the offers from the many New York sportsbooks for new bettors, you'll get maximum value using Caesars NY promo code EMPIRE1000. You get a $1,000 first bet credit.
The Caesars New York Sportsbook promo includes 100% insurance on your first bet. Once you place a qualifying deposit, and your first wager loses, bettors will receive a single-use token worth up to $1,000 in a single-use bonus bet. This is undoubtedly one of the most valuable offers in the state.
Read the terms and conditions so you understand all the details of the Caesars New York Sportsbook promo code.
Additional Sign-Up Offers for Caesars New York Sportsbook
The Caesars Sportsbook New York promo code for new players aside, bettors will find great deals on popular professional sports throughout the year. Here are a few that caught my eye.
Use any one of the offers above and boost your winnings every week. Caesars is committed to offer the best sports betting promos in the NY market so why not take advantage and play?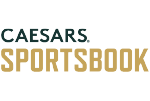 Caesars Sportsbook New York App and Website Overview
Caesars Sportsbook NY is a part of the Caesars Entertainment brand, which has existed in some form since 1937 when Bill Harrah opened a bingo parlor in Reno, Nevada. With dozens of hotels and casinos operating under its many brand names, it is one of the largest gambling companies in the world, and is competing with other long-term brands such as FanDuel New York Sportsbook.
In 2013 – one year after DraftKings NY was founded – Caesars launched its digital product with an online casino in New Jersey. A sportsbook was added to its internet portfolio in 2019, and it has been adding new regions as online sports gambling has been legalized.
Caesars sports betting app overtook London-based bookmaker William Hill in 2021 – a massive acquisition at $4 billion, which was announced in 2020 – and rebranded the venerable British operation under Caesars' banner in the United States, adding a more aggressive welcome bonus for new users.
Competitors also with an overseas presence include WynnBET New York.
Caesars Sportsbook NY Features: Best Sports Betting Website For Ease Of Use
I found that the Caesars Sportsbook New York website was user-friendly, with an easy-to-read layout and convenient ways to customize it. You can switch back and forth between light and dark displays (handy for legibility and to minimize eye fatigue), and while I prefer the default American odds formats, decimal and fraction are at your fingertips if you're more comfortable playing that way.
Beyond those features, the website has the sports markets on the left side, the lines down the middle, and your bet slip pinned on the right, where you can always keep an eye on it. I also appreciated that the Caesars Sportsbook NY promos above the action were mostly clean and clear from a lot of unnecessary and distracting graphics.
Sports Available At Caesars NY
This is not a six-sport offering. Of course, Caesars is one of the largest New York sportsbooks and industry names out there.
Caesars Sportsbook NY also features multiple sports with global reach – soccer, Formula 1, tennis and cricket.
Caesars Sportsbook New York: Types of Sports Bets Available
Caesars Sportsbook New York provides a host of types of bets and events for players to find action. Here are just a few of my favorite options available to players at Caesars New York.
Point Spread

This is how fans and bettors can gauge how close a game is expected to be. The Titans are heading to upstate New York to face the Bills. Yes, Buffalo should win, but to make things more interesting, by how much? Oddsmakers at Caesars Sportsbook had the Bills as a 10-point favorite when the week opened, so if you bet on Buffalo (-10), it would have to win by 11 or more for your wager to be a winner. Taking Tennessee (+10) means you effectively start with a 10-lead. If the Titans lose by 9 or fewer – or win outright – your wager is a winner. If the final score has Buffalo winning by 10, it is a push and your money is refunded. Point spreads often include a half point (Bills -9.5), which removes the chance of a push on that wager.

Moneyline

A moneyline bet is a wager on the odds of one side winning a contest, independent of the point spread. Moneyline bets are found across sports markets throughout Caesars Sportsbook New York. Example: New York Giants (-140) hosting the Carolina Panthers (+118). Forget the point spread – who wins the game? You need to bet $140 to win $100 on a Giants victory, or bet $100 to win $118 on a Panthers victory. Note that you do not need to bet $100. You can bet $14 to win $10 on a Giants victory, or bet $10 to win $11.80 on the Panthers.

Over/Under (Total)

A total line is a bet on the final number of points (or runs, goals, etc.) in a sporting event, including any overtime or extra innings situations. Caesars Sportsbook NY runs total line bets on popular sports such as baseball, football, basketball and hockey. Example: The playoff-bound Mets are hosting the Cubs, and the over/under on runs is set at 8. If you think they'll score more, take the over. If you forecast a pitcher's duel, take the under. These often are set at -110 each way, so you'd bet $110 to win $100 (again, remember that you do not need to bet $100).

Parlay Bets

A parlay bet is a combined bet that links two or more outcomes, where all outcomes need to transpire for the bet to pay off. The risk is higher, the potential reward is greater, and on Caesars Sportsbook New York parlay bets are easy to make whether across multiple games or baked into a single event.

Round Robin

Caesars Sportsbook New York allows for round robin bets, which are a collection of parlays. It's a hedged bet, because not every pick you make needs to hit. For instance, picking three winners on a round robin only requires two to win for you to get a payday. A quality sportsbook app such as Caesars New York may offer parlay insurance – if you lose only one leg of a multi-leg parlay, the bet will be declared a push.

Teasers

Also available for play are the ever-popular teaser bets, which are a variation on parlays. In a nutshell, you're adjusting the point spreads in your favor, but you have to win on each to cash in. Most sportsbook operators, Caesars Sportsbook New York included, will offer teasers only on football and basketball wagers.

Futures

A futures bet is a long-range wager laid down on an outcome determined much later. For instance, on Caesars Sportsbook NY in the offseason, players can stake a future bet on who will win the next Super Bowl before the preseason even gets underway, or who will win the Heisman Trophy, or whether or not Aaron Judge will hit 60 home runs. These are moneyline wagers, so for example, the Bills (+600) opened the 2022 season at the favorites to win the Super Bowl.

Props

Prop bets, short for proposition bets, deal with the outcome of a sporting event beyond winning and losing. Bowl games and playoff games across major sports often will include prop bets on Caesars Sportsbook NY, such as "Which team will score first?" You can play a prop bet as a straight wager, but they often are combined into parlays (the Mets, Yankees, Braves and Red Sox all winning on the same day) and same-game parlays (for example, the Jets win, their QB throws for 250 or more yards and their starting running back runs for 2 or more touchdowns). More on same-game parlays below. Although I cite a New York sports teams a lot, Caesars sportsbook users obviously can wager on any team they like.
Caesars Sportsbook NY Top Betting Features
The New York online casino gambling market is about to be crowded with plenty of operators competing for your action. Fortunately for players, this competition means the sports betting industry constantly will be delivering new ways to play, and any major sportsbook brand worth its salt will be offering deals and promotions to keep players coming back, and that includes Caesars Sportsbook New York.
Live Betting Options
Caesars Sportsbook New York offers live betting during some of the biggest games. This allows bettors the opportunity to bet on games in progress with live updates on the betting lines. I found competitive odds and enticing live prop bets listed as "Live Specials." For me, live betting is especially great on the Caesars mobile sports betting app. Live betting allows you to engage repeatedly with a game and react as things change on the field. An injury to a top player or someone finally getting hot after a bad first half can be opportunities to make new wagers.
Bet Cashouts
Sports bettors crave flexibility, and Caesars Sportsbook New York delivers with the cash out option – the ability to settle wagers before the final result. If your bets are coming in and you want to protect your winnings, or if the luck isn't going your way and you want to cut your losses, cash out can do that. Just check your Open Bets tab to see if cash out is eligible on your wagers and settle up early. I love the control.
Odds Boosts
Caesars NY Odds Boosts, which several other operators such as PointsBet New York are also using, are a common way to make a bet more enticing to online sportsbook players. Briefly, an odds boost is an increase in odds on certain wagers in a game or prop bet that will deliver a larger payout on a moneyline wager, or if it is a point-spread boost it will give you a better chance of a win. I have found that Caesars odds boosts regularly move odds in the bettors' favor.
Same-Game Parlays
Caesars Sportsbook New York's same-game parlay will allow you to place wagers on multiple aspects of a single contest, allowing you to keep track of your parlay without having to find the remote control. This could be as simple as combining a total points wager with a bet on the point spread. Caesars Sportsbook NY can handle up to 10 legs on a same-game parlay if the game's conditions allow for it.
Bets Allowed
If moneylines, spreads and totals don't do it for you, player props and game props are available, as well as futures bets and plenty of ways to parlay, including teasers and round robins. What's more, at Caesars New York, there are nearly 20 different sports available for wagering, and each of those sports can list multiple leagues. Basketball, for example, includes, NBA, WNBA, NCAA men and women and European games. For auto racing, NASCAR, Xfinity, Trucks and F1 all are included. That is a lot of sports betting market. Now you tell me – is Caesars Sportsbook legit?
Sign-Up Process At Caesars Sportsbook NY
I found it easy to create my account and to link it to my Caesars Rewards plan. When you're ready to play at Caesars Sportsbook New York:
With those done, you'll be ready to make your initial deposit and start betting.
Payments Methods Accepted By Caesars Sportsbook New York
Caesars Sportsbook New York's payment methods are subject to change based on changes in New York State laws and regulations, but I've found that Caesars Sportsbook makes it easy to get your money in and out via online banking.
💰 Debit and Credit Cards (Visa, MasterCard & Discover) (Deposit Only)
💰 eCheck through VIP Preferred
💰 Online Banking verified through PayWithMyBank
💰 Paypal
💰 Caesars Prepaid Play + Card
💰 Skrill
💰 PayNearMe (Deposit Only)
💰 Cash Deposits at a Caesars Retail Sports Betting Location
Depositing Funds With Caesars NY
I found that making a deposit to my Caesars Sportsbook New York account is a streamlined process. It should be – it was designed to get customers quickly back to the action. Simply click on your account balance in the top right corner of the screen and hit the "Deposit" button.
From there you can select your preferred deposit method and enter the required information, including the amount. Caesars Sportsbook recommends online banking, but provides plenty of options, so you can choose what works for you.
Caesars Sportsbook NY Withdrawing Funds and Payouts
Similar to other established brands such as BetRivers New York Sportsbook, withdrawing funds from your Caesars Sportsbook account is as easy as it is to deposit them. Again, click on your account balance and then click the "Withdraw" button. That will bring you to the several methods you can use to get money out of your account and into your hands. Be advised it can take up to 72 hours to complete the transaction.
Caesars also accepts money at the cage of its retail sportsbooks.
Caesars New York Payout Methods
| | |
| --- | --- |
| Caesars PayPal Withdrawal Time | 1-3 days |
| Caesars Play+ Withdrawal Time | Instantly at participating ATMs |
| Caesars Bank Transfer Withdrawal Time | Daily |
Caesars NY Rewards, Contests And Tournaments
With the rise of legal online sportsbooks in New York, the operators are jockeying for the best way to keep players coming back. For bettors that means loyalty rewards, and I would be hard-pressed to name a more complete rewards program than the one available through Caesars Sportsbook NY.
Caesars New York Sportsbook Rewards Program
Caesars Sportsbook is part of the Caesars Rewards program, a comprehensive entertainment destination program with plenty of perks at Caesars affiliates (such as Yellow Brick Road Casino, which has The Lounge with Caesars Sports) around the world.
Full details of the Caesars Rewards program are on the website, but even at the lowest tier of membership, benefits include online bet credits, special offers at affiliated casinos (such as Turning Stone Resort Casino), and free and discounted hotel stays.
Members also qualify for dining, shopping and entertainment benefits, and the highest-tier members qualify for some pretty spectacular benefits. Be advised that Caesars Sportsbook NY is the only online sportsbook that allows users to earn Caesars Reward Credits, and that many of the perks offered through the program require players to be at a Caesars-affiliated location, such as a hotel or casino (the aforementioned Turning Stone Resort Casino and the Yellow Brick Road Casino).
User Experience Of Caesars NY
From the first bet to the last, whether you are getting reward credits or odds boosts, or using a huge Caesars New York promo code, I've found that online sportsbooks are only as good as they are usable; if it doesn't work, it won't be any fun. I'll get into the nuts and bolts of both the Caesars Sportsbook app and its web-based platform so you know what you're getting into with Caesars NY.
Caesars Mobile App For New York Bettors
The New York Caesars Sportsbook app, which you can get for both iOS and Android devices, has all online sports betting action in the palm of your hand. I found it to be a user-friendly, customizable experience that quickly got me to promos and live action, and got me to my bet slip with just a tap. The default screen offers the most common wagers on the most popular sports, and other markets and action are easy enough to find.
There's also a separate mobile sports betting app experience optimized for tablet users, which splits the difference between the phone and web-based platforms beautifully. And the ability to log in on iOS with Touch ID or Face ID only adds to the ease of getting logged in and getting playing.
A drawback was that the layout was a little cramped on a phone; it's not as easy to see everything relevant to your experience as you might like. That's common among most mobile sports betting phone platforms, but bears mentioning. The promos page especially may require a lot of scrolling to get where you want to be. It's great that there are that many promos, but it'd be great as well if they were easier to follow.
The only other quibble I had on the mobile sports betting app was that in locations where online casino gaming is also legal, the app really pushes the casino product. With only so much real estate on a phone, there's no need to have three different callouts to the casino on screen at once in a sportsbook.
Caesars Sportsbook NY Web-Based Betting
The Caesars Sportsbook New York website-based experience is a real strength of the brand. As I previously mentioned, the full screen layout with the bet slip always on the right is ideal for keeping track of wagers.
It's also simple to deposit or withdraw from your bankroll, access customer support if need be and navigate to any live betting or eye-catching promos. The site is also responsive, meaning the layout will adjust to the size of the window you give it, and keep all the most important information right in front of you where it belongs.
Another bonus of using the full-screen layout is that you have that real estate to do your research as well.
Caesars Online Sportsbook NY Safety And Security
Caesars Sportsbook New York strives to provide a secure and safe legal sports betting experience to its users. New York State approved online sports betting in 2021 and it went live in the state on January 8, 2022. Caesars (along with FanDuel, DraftKings and BetRivers) went live on Day 1. There are currently 9 New York online sportsbooks legal and available in the Empire States.
To ensure their business complies with all laws and regulations, Caesars Sportsbook New York uses secure connections through its platforms and uses cookies to assist in fraud protection.
If you play through Caesars Sportsbook New York, you will be responsible for ensuring nobody else uses your account, and it recommends using two-factor authentication (2FA) to help ensure your security.
Contact Caesars Online Sportsbook New York
Caesars Sportsbook NY provides several options for customer support should anything go awry with your account. With several problem-solving methods at your fingertips, you should be able to resolve any situations quickly.
Help Page

The most common issues can be found on the Caesars Sportsbook New York Help Page, along with Terms & Conditions and Privacy pages, and a quick way to access the sports betting House Rules. Try navigating the page to your question first, because the search leaves something to be desired.

Live Chat

According to Caesars Sportsbook NY, the quickest way to get a response from customer support is through its live chat feature. Issues related to logins or Caesars Rewards can be addressed here and chatting with an agent is also an option if you have a less common problem.

Phone And Email

If you don't like the live chat feature and can't find the issue on the help page, your luck hasn't run out. The Caesars Sportsbook support team is also available by email or by phone.
How To Bet Responsibly With Caesars Online Sportsbook NY
Responsible Gambling is a crucial aspect of the sports betting experience, and Caesars takes this seriously. In addition to providing a fair and regulated game, several controls are available to users to prevent getting in over their heads.
✅ Deposit and Spend Limits – Users can limit the amount of money allowed to be deposited or wagered across a selected time frame.
✅ Daily Time Limit – Players can set a maximum number of hours spent on the system in a day.
✅ Cool Off – Bettors can take a break from their account from anywhere from 3 to 30 days.
Limits also can be adjusted, made more restrictive immediately and less restrictive after a waiting period.
If the limits Caesars has available to you aren't enough, and you think you may have a gambling problem, help is available in New York through your local Problem Gambling Resource Centers.
The Verdict On Caesars New York Sportsbook
In New York, sports betting is a huge business, and a renowned brand such as Caesars probably could coast on name recognition alone, with more brand equity than the FanDuels and BetRiverses of the world. But it's not content to just coast. The attention to detail put into the website and especially the tablet experience of the mobile sports betting app make it clear that Casesars wants to be seen as using top-of-the-line tech.
The Caesars Rewards package is another important wrinkle. It can rack up some seriously exciting perks for serious bettors, especially the bettors who like to make vacation plans around their gambling. That said, a casual sports betting player may prefer a rewards plan more focused on bet credits and boosts than bonuses based on gambling as a lifestyle.
But even the most inexperienced casual gambler, or one making his or her first bet on Caesars, will find something to like here, from the odds boosts and bets on Caesars to the live specials. And with welcome offer of a first bet up to $1000 , adding the Caesars Sportsbook NY to your portfolio is really a no-brainer.
---
EmpireStakes.com is an independent sports betting comparison website with affiliate links. What that means is if you click on one of our links that directs to an operator and you make a deposit, we'll receive commission payment. Our operator recommendations and reviews for New York sports betting apps, promotions, and more are impartial as our editorial standards are commercially independent and follow a professional methodology.
---
Caesars Sportsbook New York FAQ
First use the code EMPIRE1000 when opening a Caesars sportsbook NY account after downloading the sportsbook app. The minimum deposit to qualify for the offer is $50. New customers will receive $1000 in bet credits after placing their first losing wager.
EMPIRE1000 is the verified promo code for Caesars sportsbook New York. Currently the promo code gives you $1000. This promo code will only work for bettors in New York State.
Yes, Caesars Sportsbook New York was granted an online sports betting license by the New York State Gaming Commission. Caesars went live January 8, 2022 and provides NY bettors a sportsbook app for iOS and Android. New York residents and visitors must be within state lines to use the Caesars sportsbook NY app and engage in online sports betting.
Caesars NY tier credits are used by bettors to unlock special perks when at any Caesars location. Download the app and open an account to get gold status. Once you fund your account, you will be awarded 1,000 tier credits. Platinum status starts at 5,000 tier credits, Diamond status starts at 15,000; Seven Stars requires 150,000.
J.B. Smoove, a comedian and actor, plays the role of Caesar – promoting the $1000 first bet offer – in the Caesars Sportsbook commercials. His real name is Jerry Angelo Brooks. His wife is portrayed by actress Halle Berry.
Caesars Sportsbook NY offers nearly all kinds of online betting markets(Moneyline, point spread, over/under, futures, prop bets, and parlays) for the top US sports. Caesars Sportsbook odds are competitive and offer attractive first time sign up bonuses and market-specific promotions for every sport.
Yes, there is a Caesars sportsbook NY app. You can download the Caesars NY sportsbook app to your phone or tablet from the Apple App Store (4.6 rating) or Google Play (4.3). Part of its strength: "The default screen offers the most common wagers on the most popular sports ... other markets and action are easy enough to find."