When Did New York Online Sports Betting Become Legal?
New York sports betting became legal in January 2022, with 9 sportsbook apps – selected by the New York State Gambling Commission in November 2021 – now available in the state opening up a host of digital possibilities. New York sports betting fans are able to place wagers through websites. It is also perfectly legal to bet through your mobile device.
Sports betting companies have worked hard since the advent of the digital age to deliver a fantastic customer experience through the New York sportsbooks they have created.
With sports betting available online for bettors in New York, they have inevitably taken advantage of the ability to place a bet quickly and easily wherever they are. And we're able to do so safely with the knowledge that the activity is completely legal.
Latest Key Developments In New York Sports Betting, 2022
✓ Aug. 8 – Rush Street Interactive reported 17% revenue growth from BetRivers NY online sports betting and casino. Full year 2022 revenue forecast was lowered to between $600 million and $630 million.
✓ Aug. 5 – New York sports betting monthly wagers dropped below $1 billion for the first time, but the weekly handle jumped to $178 million, breaking a five-week slump had ended. From Jan. 8-July 31, $9.3 billion was wagered in New York state. FanDuel Sportsbook NY is the market leader at $3.7 billion.
✓ Aug. 1 – BallyBet New York Sportsbook, which in July entered the market as the last of the nine New York sportsbooks to have been granted licenses, announced a marketing partnership with the New York Yankees. ... In April, the New York Mets landed a deal with Caesars Sportsbook NY.
✓ June 13 – New York's total May betting handle was just above $1.26 billion, which gave the state $110.4 million in revenue from about $216 million in gambling operator profits. New York taxes operators at 51% of gross gambling revenue. Personal tax rates are lower. Find out more with our tax calculator.
✓ May 31 – New York passed Pennsylvania in total tax revenue from sports betting. New York's $267 million since launch in January came from online sportsbooks ($263 million on 51% of profits) and four upstate commercially licensed casinos ($4 million on 10% of profits). Pennsylvania had brought in $253 million since 2019, and New Jersey had brought in $229 million since 2018.
Key Feature Of All 9 NY Sportsbooks August 2022
There are nine live New York sportsbooks taking bets. Here is a list of those nine operators and what distinguishes each in the New York sportsbook scene:
Breaking Down The Best New York Sportsbooks For August 2022
Is sports betting legal in New York? Yes, absolutely. The following top operators are among the best online New York sports betting sites that players can access, now that sports betting in the Empire State is live and legal. Remember to only use New York sportsbooks that are legal for the best experience.
Caesars New York Sportsbook
One of the best NY sportsbooks, Caesars Sportsbook New York is well-regarded and offers markets on a wide range of sports. Caesars NY covers everything a sports bettor could be looking for in 2022.
Terms apply for all bonuses. Must be 21+ to participate.
BetMGM New York Sportsbook
BetMGM Sportsbook New York has quickly gained a major foothold in the burgeoning New York sports betting market using high-profile promotions and offering a fantastic user experience. Although it has suspended its welcome offers, at least for now, it is a leader among NY sportsbooks.
Terms apply for all bonuses. Must be 21+ to participate.
BetRivers New York Sportsbook
BetRivers Sportsbook New York has won rave reviews for the quality of its software and app – New York sports bettors can look forward to a great sports betting experience.
Terms apply for all bonuses. Must be 21+ to participate.
WynnBET New York Sportsbook
WynnBet Sportsbook New York was a late entry to a US sportsbook market but among the earliest in New York. State residents who are sports-betting clients will find a user-friendly app and plenty of available sports markets as New York online sports betting continues to grow.
Terms apply for all bonuses. Must be 21+ to participate.
FanDuel New York Sportsbook
FanDuel Sportsbook New York, one of the big beasts of the sports betting scene in New York – and the United States. It is well-known for its reputation of offering attractive bonuses, competitive odds and a superb interface.
Terms apply for all bonuses. Must be 21+ to participate.
DraftKings New York Sportsbook
DraftKings Sportsbook New York is an experienced and professional operator that offers great customer experience with a bountiful selection of promo codes and sports. It is a very well-known New York sportsbook.
Terms apply for all bonuses. Must be 21+ to participate.
PointsBet New York Sportsbook
The Australian outfit PointsBet Sportsbook New York has moved fast to establish itself in the online betting NY scene. It offers a broad choice of sports markets and a user-friendly experience for Empire State betting fans.
Terms apply for all bonuses. Must be 21+ to participate.
Resorts World Bet Sportsbook NY
Resorts World Bet, which has a brick-and-mortar (and glass) casino property in Queens, entered the New York sports betting market March 2. It is less widely known than some of its competitors in this space but hosts about 10 million guests annually. The Casino is operated by Genting New York LLC.
Bally Bet New York Sportsbook
The Bally's Corporation burst on to the New York sports betting scene in late 2020 when it acquired BetWorks for $125 million and unveiled Bally Bet Sportsbook New York. It has expanded aggressively since and went live in the Empire State on July 7 as the latest of the legal New York sportsbooks.
Introduction To Sports Betting In New York
Here are some types of bets to get you started. For more information, including how to read betting lines and more, visit our page How to Bet on Sports: A Guide For New York Sports Bettors.
What Bonuses/Promotions Do New York Sportsbooks Offer?
New York sports betting is a ferociously competitive market place. The battle to lure customers is intense – and one way in which New York sports betting sites try to ensure loyalty is through promotions.
Welcome bonuses, odds boosts and other offers are tried and trusted weapons of enticing and retaining customers, and they undoubtedly will be deployed by New York online sportsbooks.
Naturally, this is good news for New York sports betting enthusiasts. However you like to enjoy a wager or two at your favorite New York sportsbooks, there should be a promotion that works for you. And don't forget that you are not limited to a single New York sportsbook. Having multiple accounts can help you make the most of your money.
Risk-Free Bets

This is a great way to attract customers to NY Sportsbooks. Many operators use this as a sign-up bonus, and its attraction is that it guarantees a non-losing start to your relationship with an operator. If your first bet wins, you get your winnings; and if it loses, you get your money back as credits to carry on wagering.

Odds Boosts

Odds boosts tend to be used as a way of enticing existing New York sports betting customers to enjoy a wager. Look out for special offers from New York betting sites that mean your winnings on a particular event will be increased from the earlier price.

Deposit Bonuses

This is another method whereby New York Online sportsbooks make their welcome for new customers even warmer. In this case, the amount you deposit in your new account is boosted – by up to 100 percent. That gives you some serious extra wagering power at your favorite New York sportsbook.

No-Deposit Bonuses

No-deposit bonuses are rarely spotted but highly valued when they do put in an appearance in the sportsbook New York world. Sign up for a new account and the New York Online Sports Betting Site will put some cash in it. This is more common among casinos than sportsbooks, but Barstool Sports, for example, has offered a $10 no-deposit bonus to new customers in some states.

Sportsbook Loyalty Offers

Some NY Sportsbooks use extra methods to encourage extended loyalty among their customers. These include VIP programs and free bets in return for placing a certain number of wagers in a short time and are made available only to committed and active bettors at NY legal sportsbooks.
Terms apply for all bonuses. Must be 21+ to participate.
Top Promo Codes For NY Sportsbooks
Now that sportsbooks in New York are allowed to offer online betting, keep an eye out for NY sports betting promo codes. These are used by most – but not all – New York sports betting sites to give quick and easy access to special offers and promotions.
It's particularly common for New York online sports betting promo codes to be available to new customers so that they can click straight through to claim their bonuses as part of the sign-up process. Sportsbook New York Promo codes can also be used to unlock special offers such as price boosts.
Terms apply for all bonuses. Must be 21+ to participate.
New York Sports Teams To Bet On
New York is a state that loves its sports betting. And the ability to wager quickly and easily on the fortunes of your favorite team or athlete adds extra excitement to a match or race. Quite simply, it brings you closer to the action and adds extra meaning to the event.
When it comes to teams, of course, sports fans have some of the most famous names in the world to wager on at New York sportsbooks.


New York Giants

With a history dating to 1925, and four Super Bowl wins, the stats are on Giants fans' side when they tell you this is New York's premier NFL team. They share the MetLife Stadium – and an intense rivalry – with the Jets.

New York Jets

The Jets have won the Super Bowl only once, in 1969 – just a few years after they joined the NFL. Even Jets fans admit they desperately need to win it again to loosen the Giants' hold on New York fans' loyalty.

Buffalo Bills

With one of the NFL's top young quarterbacks in Josh Allen, the huge offseason signing of Von Miller and the steadiness of head coach Sean McDermott, Buffalo is a Super Bowl contender.

New York Knicks

The New York Knickerbockers, to give them their full name, have been a main feature of the Big Apple's sporting scene since they were founded in 1946. But they have not brought an NBA Championship back to the city since 1973.

Brooklyn Nets

The Nets joined the NBA in 1976 and spent much of their existence in New Jersey before moving to Brooklyn in 2012. They play second fiddle to the Knicks in New York City, and an NBA finals appearance appears a distant dream.

New York Yankees

Arguably the most famous American sports team of them all, the Yankees have been at the heart of New York City life since 1903. With 27 World Series titles and a star-studded history, the Bronx Bombers have a unique mystique that extends way beyond baseball.

New York Mets

The Mets have struggled to emerge from the shadow cast by the Yankees – not least when they lost the 2000 World Series to their cross-city rivals. Plenty of fans in the state root for the underdogs, however, and they have won the World Series twice, most recently in 1986.

New York Rangers

One of the "Original Six clubs" since joining the NHL in 1926, the Rangers are optimistic following an appearance in the 2022 ECF. They have won four Stanley Cups – the most recent in 1994 – and command a loyal following in the city.

New York Islanders

The Islanders only joined the NHL in 1972, but from 1980-83 they won four consecutive Stanley Cups. Those heights have, sadly, never been ascended since, as fans of their city rivals are fond of pointing out.

Buffalo Sabres

The Sabres are in a tough spot, having missed the playoffs 11 seasons in a row, but youngsters Rasmus Dahlin and Dylan Cozens add some juice to Tage Thompson, Alex Tuch and Jeff Skinner.

New York City Football Club

NYCFC only joined the ranks of Major League Soccer in 2015, but have already built a strong following in the city. The side attracts healthy attendances to home matches at Yankee Stadium and won their first MLS Cup championship in 2021.

New York Red Bulls

With Lewis Morgan and Omir Fernandez powering the offense and Carlos Coronel in goal, the Red Bulls are jousting for top of the table with their city rival.
Popular Sports To Bet On In New York
New York betting sites offer a full range of US sports for fans to bet on. You won't be short of options no matter what season, no matter what month, and New York sports betting sites are open 24 hours a day. You have access to sports and competitions from around the world at New York sportsbooks.
Each New York sports betting site offers residents a slightly different selection of betting markets. Nevertheless, every operator offers bets on the big four US sports, and the biggest of these by far in online betting NY is NFL football.
NFL
New Yorkers have the luxury of three NFL teams to bet on. Between them, the Giants, Jets and Bills create a massive volume of data on game events that New York sports betting sites can use to offer bets. Every game will have more than 100 ways to wager. Moneyline bets on the outright victors are the simplest way to bet on NFL in New York match-ups, but the games offer much more.
NBA
The NBA betting in New York provides the second-most popular sport in online sports betting. Games are even higher-scoring, so you have the option to make a wide range of bets.
NHL
NHL New York games are structurally different to the NBA and NFL. More than 90% of the time the winning team scores six or fewer goals. Almost 10% of games end in a tie at the end of regulation. Fortunately for sports betting in New York, the 2005-06 season saw the end of the ties being the final result. The NHL introduced shootouts to ensure that each game had a winner. New York sports bettors should adjust their bets to match the different characteristics of hockey games.
MLB
The Yankees and the Mets are two of the most famous sports teams in the world. New York baseball fans are rightly proud of their teams' heritage and sporting record. MLB baseball New York Betting is the granddaddy of sporting statistics. Nine innings per game with three outs per team offers the basis for a lot of betting action.
Betting on College Sports in New York
New York has followed neighboring New Jersey in its approach to college sports betting. You can bet on NCAA college games but not if the game involves a New York team and not if the game takes place in New York state. That means a chunk of March Madness will remain off-limits this year as will many games in the Big East Tournament and the Atlantic 10 games for New York betting sites.
That still leaves plenty of action available. And there is always the chance that a few years of experience will make NY legislators and regulators comfortable with changing the rules for New York betting sites.
Best Types & Sports Wagers At New York Sportsbooks
Just like you would expect, the Empire State offers you a myriad of different types of bets. Here's a breakdown of some of the most popular betting options at any of the New York sportsbooks.
Moneyline

This is the simplest wager when it come to New York sports betting. Just decide which team or athlete you think will win a match and place your bet. The odds-on the favorite will carry a minus sign and show how much you have to stake to win $100; the odds on the outsider have a plus sign and display how much you win if you wager $100.

Parlays

Parlays are wagers on two or more outcomes, also known as accumulators. You place a single stake and the odds are multiplied for every correct selection. This means you can get handsome returns for a small outlay, but all your picks have to win.

Totals

Also known as an over-under bet, this is a wager on the overall number of points to be scored by both teams in a match. If you think it will be more than a figure set by the sportsbook in New York, you go over; if you think it will be fewer, you opt for the under figure.

Point Spreads

This is a good way of getting more attractive odds on a favorite. The spread will effectively handicap one side by giving their opponents a notional start; if the favorite wins by that amount or more, that is known as "covering the spread." If you have bet on them, you are a winner.

Futures

New York Sports betting operators will give you the opportunity to wager on events that will not be decided for some time. For instance, you might want to wager on the New York Yankees to win next year's World Series; a futures bet will enable you to do so.

Prop Bets

Proposition bets relate to particular outcomes within an event that are not connected to the overall result. For instance, you might want to place a wager on a player to score a certain number of points, or which team will score first, or how many strikes a pitcher will throw.

Live Bets

Advances in digital technology mean that sportsbooks can update odds instantly during a match or race. That allows bettors to place bets while an event is underway in response to the way the action is going.

Prohibited Bets

There are certain events on which sports betting in NY may not take place. You can't wager on any of the college teams based in the state. And betting on any form of political event, including local and national elections, is not allowed anywhere in the United States.
Terms apply for all bonuses. Must be 21+ to participate.
Who Regulates Online Sports Betting In New York?
All forms of gambling in New York, including casinos, horse racing, lotteries and sports betting, is administered by the New York State Gaming Commission. This is the organization that ensures all New York sports betting sites comply with state law.
It is based in Schenectady and was formed in 2013 following the merger of the New York State Racing and Wagering Board and the New York Lottery.
The commission is the body that decides which groups or operators will receive licenses to carry on New York sports betting. It is in the spotlight as it monitors the sportsbooks allowed to offer online betting in New York.
New York Retail Sports Betting Vs. NY Online Sports Betting
For most people, New York sports betting is a fun leisure activity that adds a little extra spice to the experience of watching their favorite sports or teams. That sense of excitement is there if you have to attend a retail sportsbook in person to place your wager.
However, it is hard to deny that the growth in popularity of mobile betting in recent years has added considerably to the ease and convenience of placing a wager.
Rather than having to leave your home, you now can enjoy sports betting without leaving your armchair. Sports betting apps are so sophisticated, with such a keen focus on streamlining the customer experience, that it is hard to imagine how much easier it could be to place a wager.
As newcomers to New York online sports betting, fans are able to enjoy that convenience legally for the first time.
It is also easy to access bonuses and promotions when sports betting on your mobile device. And the ease of betting means you can place a wager more quickly, which makes betting on live events a more attractive proposition.
Mobile betting is an enhanced wagering experience delivered to your personal mobile device – no wonder there was a great anticipation over the imminent launch of online New York sportsbooks.
New York Sports Betting Revenue Forecast
Exact figures for the expected revenue from New York sports betting once online licenses were a popular subject of speculation. The only thing that seemed certain was that the handle would be enormous and it was.
In its first month offering mobile sports betting, January 2022, New York quickly overtook New Jersey as the state with the biggest betting market, debuting with $1.686 million after the Jan. 8 launch.
Given the high rate of tax on operators who offer online sports betting in New York, some experts have suggested that the state might see revenues of up to $500 million annually by 2025. This represents a significant income stream for a state that is reportedly facing a budget deficit of up to $15 billion in the aftermath of the coronavirus pandemic.
Legal Online Sports Betting in New York: Legislation Timeline
📆 Jan. 8, 2022 – Online New York sports betting goes live with Caesars, FanDuel, DraftKings and BetRivers launching their apps in New York. By the end of the month, New York's total online sports betting handle passed $1 billion, making it the largest legal betting market in the United States.
📆 November 2021 – The New York Post reports that the names are about to be revealed of the operators licensed to offer sports betting online in New York. The New York Gaming Commission was projecting $10 billion in sports betting in. 2022, with the nearly $1 billion in expected profits split between the state (51%) and the operators (49%).
📆 August 2021 – Potential online sports betting operators begin to submit their applications to the New York State Gaming Commission.
📆 April 2021 – New York State legislators pass a budget for 2022 that will allow mobile and online betting to launch in New York. Once fully phased in, the Mobile Sports Wagering program will provide $5 million annually to youth sports and $6 million to combat problem gambling, doubling the resources currently available. The remainder of this new revenue will be dedicated to education.
📆 January 2021 – Then-Gov. Andrew Cuomo declares his support for online and mobile New York sports betting as the state faced a covid-shutdown revenue shortfall upward of $63 billion over four years. "We want to do sports betting the way the state runs the lottery where the state gets the revenues."
📆 2020 – Bills are introduced designed to legalize online betting in New York, but gained little traction with lawmakers as Cuomo was against "irresponsible revenue sources to solve a problem which doesn't really exist."
📆 2019 – New York Sports betting is launched at retail outlets, including upstate casinos. Several open over the following months.
📆 2018 – PASPA – the Professional and Amateur Sports Protection Act – is struck down by the U.S. Supreme Court, opening the door for states to license sports betting if they wish. ... Sportsbook bills came up in the Assembly and Senate, but neither chamber moved past committee stage.
.📆 2013 – Sports betting in New York is legalized in anticipation of a change in federal law.
Where To Bet in New York
There are four commercial casinos where sports betting is currently allowed in the state of New York:
| | |
| --- | --- |
| 🎰 Del Lago Resort & Casino | DraftKings |
| 🎰 Resorts World Catskills | Sportsbook 360 |
| 🎰 Rivers Casino Schenectady | Rivers Sportsbook |
| 🎰 Tioga Downs | FanDuel Sportsbook |
There are also seven casinos operated by three tribes, the Seneca Nation, St Regis Mohawks and Oneida Nation:
| | |
| --- | --- |
| 🎰 Turning Stone Resort Casino | Lounge with Caesars Sports |
| 🎰 Points Place Casino | Lounge with Caesars Sports |
| 🎰 Yellow Brick Casino | Lounge with Caesars Sports |
| 🎰 Seneca Allegany Casino | Sports Lounge |
| 🎰 Seneca Buffalo Creek Casino | Sports Lounge |
| 🎰 Seneca Niagara Casino | Sports Lounge |
Get Started Sports Betting in New York
In the months since the green light, the New York State Gaming Commission has moved more swiftly than expected and launched New York sports betting with operators who were granted mobile sports betting licenses on Jan. 8, 2022 with Caesars, FanDuel, DraftKings and BetRivers taking action the first day.
New York quickly became home to the biggest legal sports betting market in the United States. Until then, New York sports betting had taken place only in fewer than a dozen upstate casinos. But the size of the online sports betting market in neighboring New Jersey shows the magnitude of the opportunity that awaits.
Empirestakes.com has become a sports gambling resource providing bettors continual New York sports betting coverage and guides on how to bet in New York.
New York Sports Betting FAQ
Yes, betting on sports online and in-person is legal in New York. Online sports betting NY launched January 2022. Nine sportsbooks were granted licenses to operate, and all of them are live now. New York legalized sports betting at commercial casinos in 2013.
New York online sports betting launched Saturday, January 8, 2022 at 9 am with the first four legal online sportsbooks: DraftKings, FanDuel, Caesars and BetRivers all taking bets online. NY has become one of the largest online sports betting markets in the US.
NY online sports betting offers all the top brands including FanDuel, DraftKings, Caesars, BetRivers, BetMGM, Pointsbet, WynnBet and Resorts World Bet Sportsbook. Bally Bet was the last online sportsbook in New York to go live July 7. 2022. All brands offer a wide array of markets to bet on.
New York sportsbooks offer the opportunity to wager on a large range of sports. That includes local, national and international events. However, operators may not offer odds on college matches involving teams based in the state, or on political events such as elections.
In the state of New York, you need to be at least 21 to gamble, including sports betting, online or in person at any NY sportsbook. And for safety, security and legality, we strongly recommend that you only use NY legal sportsbooks when placing wagers.
The State of New York is taxing sports bettors a 24% withholding tax rate on winnings over $600 or on a bet placed that's 300 times the original bet. Bettors have the option to pay taxes on their winnings when they get paid out or when taxes are filed
Sports betting in NY, either online or in person, is regulated by the New York State Gaming Commission. Brands that offer online sportsbook options have received the approval of the NYSGC before going live. Bettors in New York now can trust where they place their bets as long as it's at any of the 9 legal operators in the state.
Yes, daily fantasy sports are legal in New York. They are incredibly popular, which indicates that there is likely to be a healthy appetite for online sports betting here. It has been estimated that 10 percent of all DFS entries come from New York. The activity was legalized in August 2016.
Terms apply for all bonuses. Must be 21+ to participate.
Contributors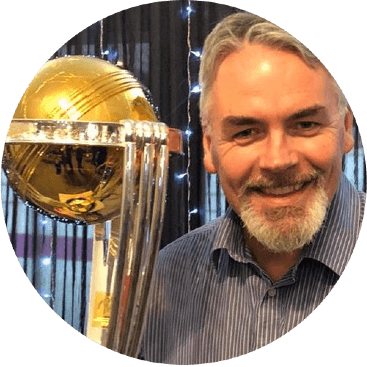 Award-winning contributor covering sports betting and casino gaming around the world for decades, Martin Booth is one of the most trusted voices in online gambling.